BIỂU TÌNH BẠO ĐỘNG Ờ BEIRUT

Ngày 8/8 ,hàng ngànngườiã tập trung ở quảng trường Martyrs tại trung tâm Beirut trong một cuộc biểu tình với cáo buộc chính phủ đã lơ là quản lý, dẫn tới vụ nổ kinh hoàng khoảng 2.750 tấn amoni nitrat hôm 4/8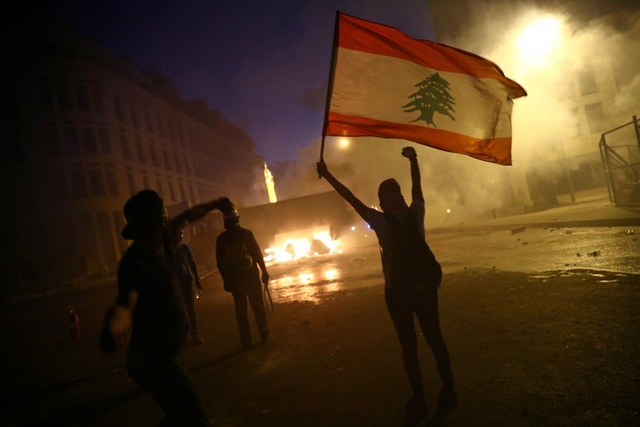 Người biểu tình cầm cờ Li Băng xuống đường (Ảnh: Reuters)/ Dân Trí

Theo RT, người biểu tình ban đầu tính tràn vào để giành quyền kiểm soát nhà quốc hội, nhưng phía cảnh sát đã ngăn cản bằng hơi cay và đạn cao su.Tuy nhiên, lực lượng an ninh Li Băng bị thiếu nhân lực để bảo vệ các tòa nhà chính phủ khác. / Dân Trí
Thousands take part in Lebanon's anti-gov't protests
The large crowd, some of them brandishing nooses, called for accountability following Tuesday's deadly blast.
protester uses a tennis racket to lob a tear-gas canister back at riot police. The protesters say their politicians should resign and be punished for the negligence that is said to have led to Tuesday's blast. Wael Hamzeh/EPA
Several thousand protesters gathered in central Beirut on Saturday to vent their anger at a political elite they blame for a deadly explosion that turned the city into a disaster zone.
The large crowd of demonstrators, some of them holding nooses, called for revenge as a large deployment of security forces tried to contain some groups seeking to advance towards Parliament.
Police used tear gas against groups of demonstrators hurling rocks and sticks on the fringes of the main gathering, which was relatively peaceful despite high tensions since the blast on Tuesday.
Among the main hashtags used on social media to rally protesters was #علقوا_المشانق (prepare the gallows), and demonstrators had set up mock gallows on the main square on Friday.
The health ministry said at least 158 people died in Tuesday's explosion, an estimated 6,000 were wounded, and at least 21 were missing.
Riot police fire tear gas at protesters outside the Lebanese Parliament. The explosion at Beirut port on Tuesday killed at least 158 people, wounded 6,000 and made hundreds of thousands homeless. Wael Hamzeh/EPA
Thousands gathered in central Beirut on Saturday to vent their anger at a political elite they blame for the deadly explosion. Thaier Al-Sudani/Reuters
Police clashed with Lebanese anti-government protesters in Beirut. The crowds that converged on Martyrs Square breathed new life into a protest movement that started in October but was snuffed out a few months later by the coronavirus pandemic and a crippling economic crisis. Ibrahim Dirani Dar Al Mussawir/EPA
Police clashed with protesters at the biggest demonstration since October when thousands of people took to the streets in protest against corruption, bad governance and mismanagement. Thibault Camus/AP Photo
People carry a wounded demonstrator away from the clashes in downtown Beirut. Patrick Baz/AFP
Dozens were wounded during the violence and needed treatment in hospitals already filled to bursting with the injured from Tuesday's blast and coronavirus patients. Thibault Camus/AP Photo
Rescuers carry an injured demonstrator during the protest. One police official was reportedly killed following an 'assault' by 'rioters', the police said. Thaier Al-Sudani/Reuters
A demonstrator waves the Lebanese flag in front of riot police. Goran Tomasevic/Reuters
Lebanese soldiers take their positions as they clash with anti-government protesters. A group of Lebanese protesters, including retired army officers, stormed the Foreign Ministry building in the capital during protests following the massive explosion on Tuesday. Hussein Malla/AP Photo
An anti-government protester takes cover behind a metal barrel during the protest outside Lebanese Parliament. Wael Hamzeh/EPA
Lebanon's Prime Minister Hassan Diab on Saturday said he would propose early elections to break the impasse that is plunging the country deeper into political and economic crisis every day. Hassan Ammar/AP Photo
Anti-government protesters clash with Lebanese riot police. Wael Hamzeh/EPA
*World mourns Beirut blast victims
Vigils held, buildings lit with Lebanese flag and blood donations organised in various cities across the globe.
Palestinians donate blood in the Gaza Strip during a public blood donation campaign for the Lebanese community. Majdi Fathi/NurPhoto via Getty Images
A man holds a 'Solidarity with Beirut' sign and a candle in Toulouse, France, during a gathering to pay tribute to the Lebanese people. Remy Gabalda/AFP
Palestinians light candles in solidarity with the Lebanese people, in Rafah in the southern Gaza Strip. Ibraheem Abu Mustafa/Reuters
A book of condolences for victims of the explosion in Beirut, at Brussels city hall. Laurie Dieffembacq/Belga/AFP
The Palestinian Broadcasting Corporation building is illuminated with the colours of the Lebanese flag as a sign of solidarity with the victims of the Beirut explosion, in Ramallah, occupied West Bank. Issam Rimawi/Anadolu
A woman holds a candle during a vigil in memory of victims of the deadly explosion in Beirut in front of the Sacre Coeur Basilica in Paris. Michel Euler/AP Photo
The Lebanese flag projected on Azadi (Freedom) Monument in western Tehran as a symbol of the Iranian people's sympathy for the victims of the recent explosions in Beirut. Morteza Nikoubazl/NurPhoto via Getty Images
Flowers and candles brought to the Lebanese Embassy in Moscow to commemorate victims of the explosion in the port area of Beirut. A note reads: 'Dear friends! Our deepest condolences! God save you!' Mikhail Japaridze\TASS via Getty Images
Players from the Brazilian team Corinthians hold a banner honouring victims of the Beirut explosion before the Campeonato Paulista first leg match between them and Palmeiras at Itaquera stadium in Sao Paulo, Brazil. Fernando Bizerra/EPA
People attend a vigil in London's Kensington Gardens for the victims of the explosion in the Lebanese capital. Neil Hall/EPA
A couple walks in Rabin square in Tel Aviv, Israel, as the municipality building is lit in the colours of the Lebanese flag, in a rare show of Israeli solidarity with Beirut as it reels from the devastating explosion. Nir Elias/ReutersSSAljazeera/ Aug 2020
Source: Aljazeera

THẾ GIỚI CỨU TRỢ -THÚC ĐẨY CẢI TỔ CHỐNG THAM NHŨNG

International leaders joined a virtual donor conference led by France and the United Nations in the aftermath of the devastating explosion at the Beirut port, pledging nearly $300m in humanitarian assistance that will be "directly delivered to the Lebanese population".

US President Donald Trump has announced that the US will give "substantial" aid to

Lebanon

, although he did not specify how much.

The International Monetary Fund said it is willing to redouble efforts to help Lebanon after the devastating blast that hit Beirut, but said all of the country's institutions needed to show willingness to carry out reforms.

Lebanon's Information Minister Manal Abdel Samad announced her resignation, saying Prime Minister Hassan Diab's government failed to live up to the aspirations of the people. Shortly after, Environment Minister Damianos Kattar also resigned from his post.




Source: Dân Tri* Aljazeera